Little Helpers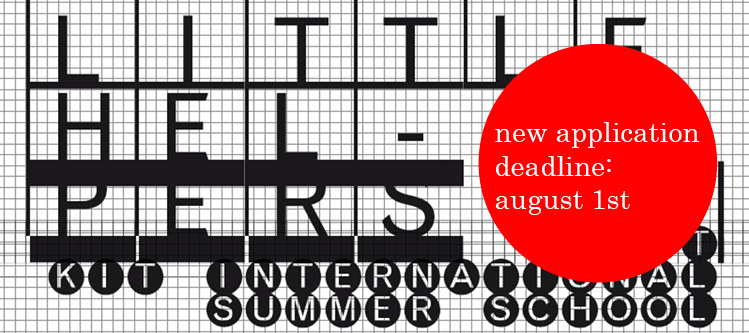 1ST KIT INTERNATIONAL SUMMER SCHOOL
03-11 august 2019
hosted by Bauplanung und Entwerfen (Prof. Simon Hartmann)
KIT Fakultät für Architektur will end the academic year 2019 with the first International Summer School in which all students will mix in teams to develop spatial interventions at KIT Campus. These interventions will aim at establishing and enabling dialogues and encounters among all students and members of the university community, as well as engaging with Karlsruhe citizens and its different communities.
For 9 days beginning in August 2019, the KIT Campus Süd will become a site for building together, thinking together and living together.
Come and join KIT International Summer School!
WHAT | Design&Build workshop
WHERE | KIT Campus Süd, Karlsruhe
WHEN | Saturday Aug 3 - Sunday Aug 11
WHOM | KIT & international students
LITTLE HELPERs
Friendly devices that are made to help others out of free will. The increasing commercial privatization of the open spaces of the public realm (public squares, streets, parks, gardens…), together with an excessive programming of the urban space and the leisure activities, have left very little place for everyday encounters. Little helpers are understood here as exploratory devices, architectural interventions capable of enabling other possibilities of being together and of establishing the common. They are friendly devices that enhance the places and situations in which they appear; indeed, they create new situations for encounters and social exchange. Can we think of architectures that promote other cultures of living and sharing? Can we think of cities made of truly shared, rather than commercial public spaces? Can we think of architecture as a 'gift'?
CONTEXT. KIT CAMPUS SÜD
KIT is one of the largest research and educational institutions in Germany and one of the leading universities in the engineering and natural sciences in Europe. The Karlsruhe Institute of Technology is distributed over several locations; while the campus north is situated in the administrative district of Karlsruhe near Eggenstein-Leopoldshafen, the campus south is about 10 km away in the heart of the city of Karlsruhe. The campus SUD occupies the east segment of the fan-shaped city layout, with immediate neighbourhood to the castle and the citiy center. It is defined by the first three axial roads, being from east to west: Richard Willstädter Allee , Engesserstraße and Waldhornstraße. The northern boundary of the campus merges with the recreation area of the pheasants garden and the Forest.
Its urban fabric has been developed over time, with a built form made of mixed typologies and architecture styles dating from different periods of time. The building typologies of the campus span from auditorium buildings, institute buildings, laboratories and experimental facilities, administration buildings, turbinehalls, Gyms, disposal stations, and libraries. The hard built-form of the campus contrasts with the idyllic pheasants gardens and its pleasure pavillions. Today, the visual identity of the KIT Campus outdoor spaces is mainly dominated by car parkings below trees, and most of the buildings are not made to engage with the student community neither with a broader public.
TUTORS
MAIO
MAIO is an architectural office based in Barcelona and New York that combine professional activities with academic, research and editorial ones. The practice has developed a wide range of projects, from housing blocks or urban planning to furniture or exhibition design.
KOSMOS
K O S M O S Architects is an office collaborating virtually, bringing together partners based in Basel, Moscow, Bangkok and New York. K O S M O S designs projects and environments of all types and scales: from a door handle to a city; from hardcore architecture to pop-up art installations. The office combines art and technology, global experience with respect to local context, European professionalism and Russian drive.
HHF
HHF Architects was founded in 2003 by Tilo Herlach, Simon Hartmann and Simon Frommenwiler. Since then, HHF Architects have realized numerous projects in Switzerland, Germany, China, France, Mexico and the USA. The scope of work ranges from urbanism and large-scale construction to public pavilions and interior design. In addition to building, teaching is an important activity of the office.

Application
As student in either architectural, design or arts education you can apply to participate in KIT International Summer School by submitting the following documents. Your application should demonstrate your interest and/or expertise in working on 1:1 works, as well as to show your enthusiasm for and/or experience with working with wood.
You find exact application guideline in the Summer School PDF.
Please submit your application in a single combined pdf, not exceeding 3MB in size, named firstname_surname_letter.pdf and send it to bauplanung∂ekut.kit.edu before the 1st of August.