sprungmarken_marker_5435
And one more treat at the end
Accompany students and lecturers of the department to special places in Karlsruhe and learn more about studying at the KIT Department of Architecture and the place of study.

Studiengang Architektur

Architektur studieren am Karlsruher Institut für Technologie
Info-Clip über den Bachelorstudiengang
Wodurch zeichnet sich das Architekturstudium am Karlsruher Institut für Technologie aus? Studierende erklären, was Euch erwartet. Das Video ist das Ergebnis eines studentischen Workshops im Rahmen des Projekts "Studienstart" im September 2020.
 Video: Louisa Schütz, Davina Dixon, Antonia Leicht und Estelle Wahl, Karlsruhe, 2020.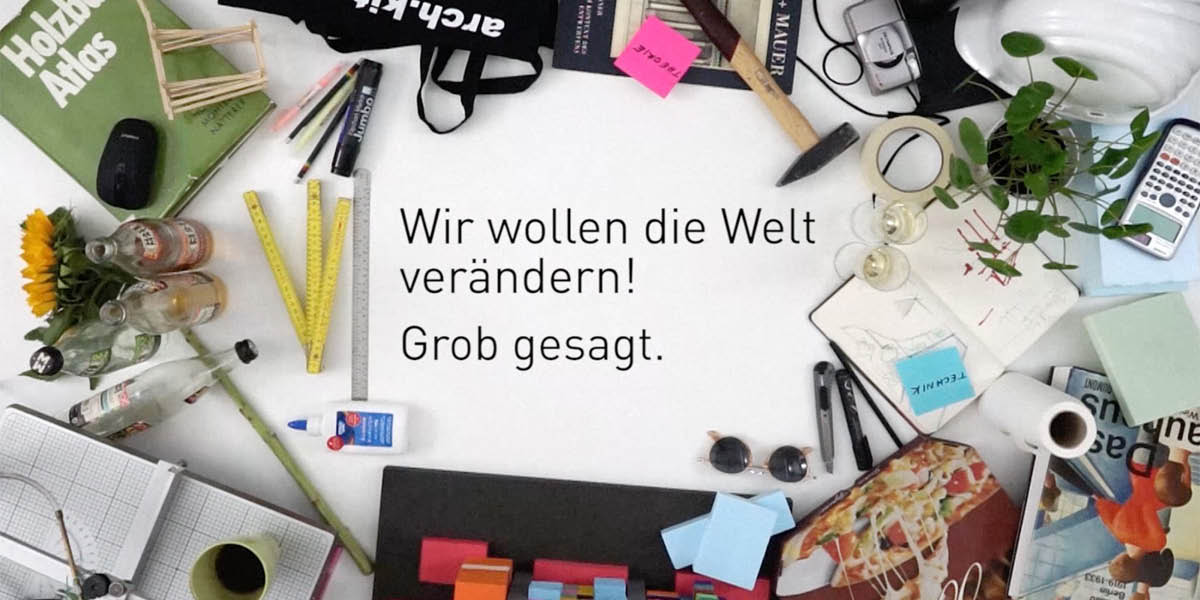 Hinweis: Durch Klick auf die Bilder gelangen Sie ggf. auf externe Webseiten. Dabei werden ggf. persönliche Daten (wie Ihre IP-Adresse) übertragen.

open.arch.kit.edu
open.arch.kit.edu ist die Online-Plattform der Fakultät für Architektur am Karlsruher Institut für Technologie. Auf ihr präsentieren die Professuren, Studierenden und Einrichtungen der Fakultät studentische Arbeiten und Projekte aus den Studiengängen Architektur und Kunstgeschichte und geben so einen Einblick in die Bandbreite der Lehre und Forschung.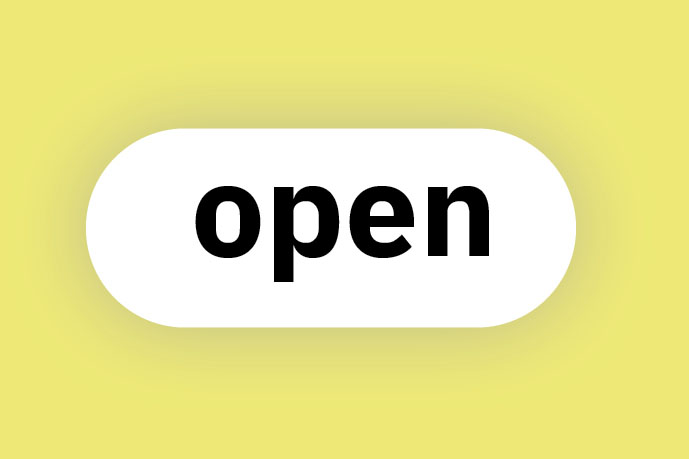 24h arch.kit.edu

Film
Ein Tag an der Fakultät für Architektur am Karlsruher Institut für Technologie ermöglicht den Einblick in den Alltag des Studiums.
Film: Antonia Leicht, Musik: Felix Booz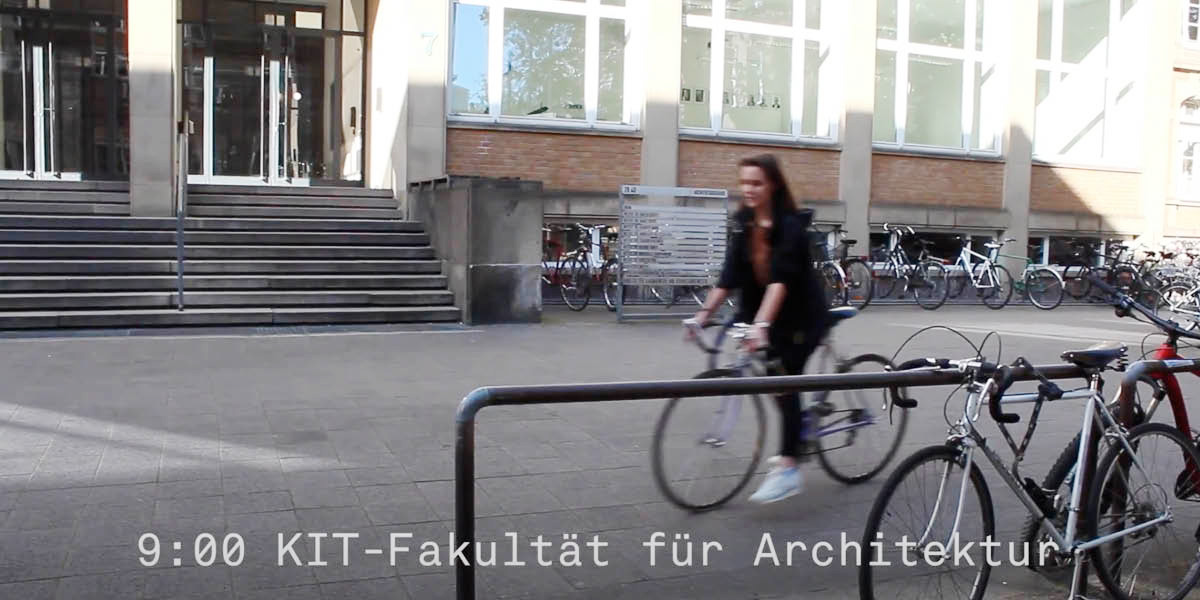 KIT-Fakultät für Architektur – Abschlussarbeiten
Online-Publikationen

Die Sammlungen der Abschlussarbeiten vermitteln einen Eindruck der Entwurfsaufgaben und Schwerpunkte des Architekturstudiums am KIT.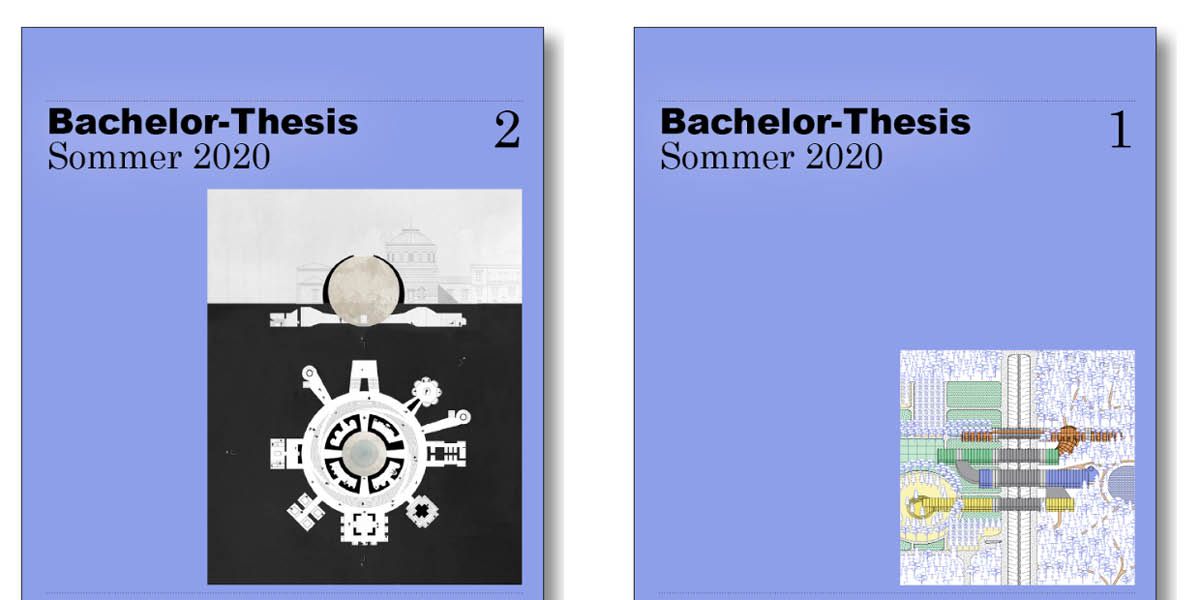 From shed to spatial object / Vom Gartenhaus zum Räumling

Film
Das Studienprojekt "Vom Gartenhaus zum Räumling" zielte darauf ab, das Potenzial der städtischen Mine zu überprüfen. Als Gruppe entwarfen die Studierenden eine räumliche Installation, bei der nur entnommene´ Elemente eines Gartenhauses ohne dauerhafte Befestigungen verwendete. Schließlich musste auch diese Installation für die Demontage ausgelegt sein und Baumaterial für eine weitere Struktur liefern.
Professur Nachhaltiges Bauen, Prof. Dirk. E. Hebel, Felix Heisel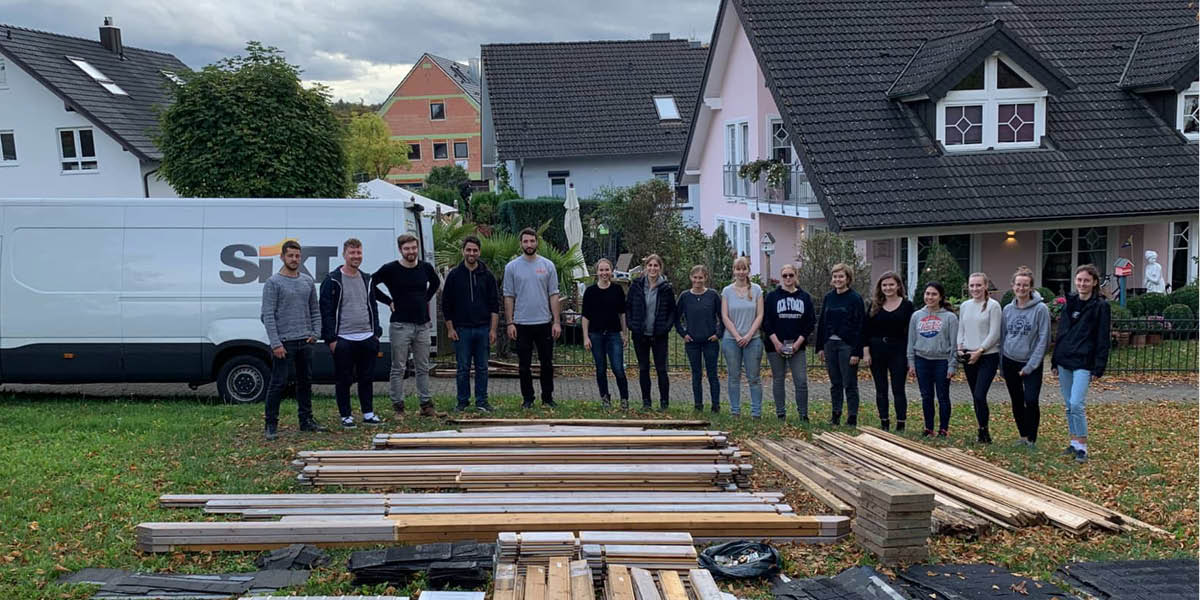 Reinschauen – Die Jahresausstellung der Fakultät
Film
Jedes Jahr veranstaltet die Fakultät für Architektur am Karlsruher Institut für Technologie zum Abschluss des Sommersemesters ihre Jahresausstellung. Einen Tag lang präsentieren die Fachgebiete, Werkstätten und Studios die Ergebnisse des vergangenen Studienjahres und geben einen Einblick in die Bandbreite der Lehre und Forschung der Fakultät. Der Reinschauen-Film wurde von Studierenden zur Jahresausstellung 2017 produziert.
Film: Antonia Leicht, Musik: Felix Booz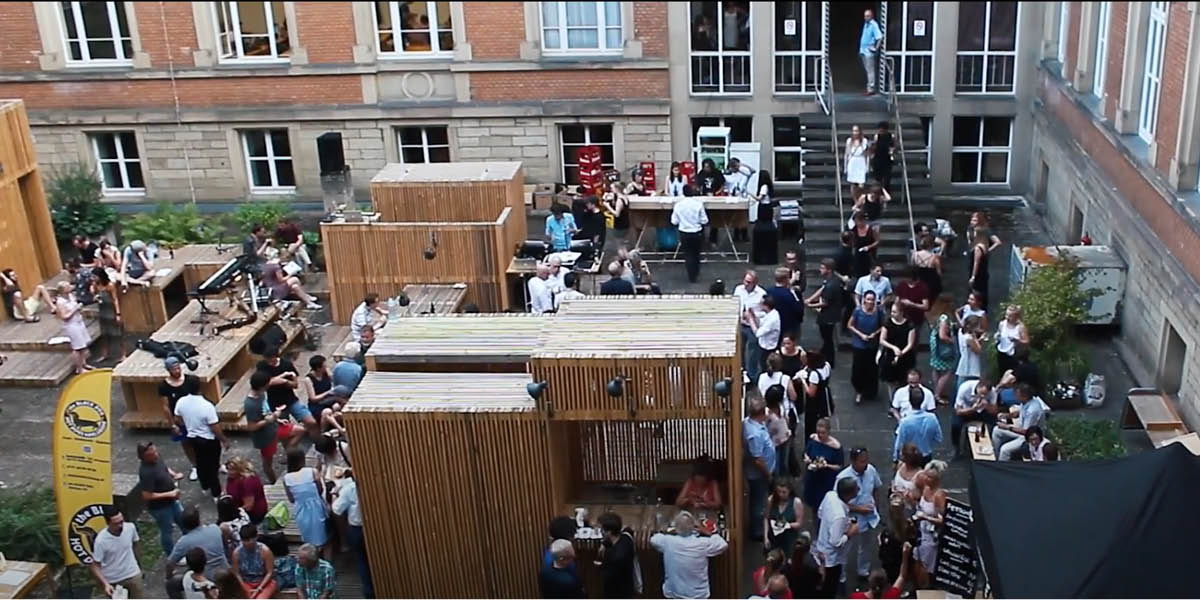 architecturalreferences.online

Webarchiv
Das Webarchiv bietet dreidimensional navigierbare Modellfotos und Plansätze von einer stetig wachsenden Anzahl architektonischer Referenzen. Mit den Materialen sollen Forschung und Lehre unterstützt werden. Das Web-Archiv wurde von Prof. Marc Frohn und Tim Panzer, Professur Raum und Entwerfen, initiiert und ausgearbeitet. Alle Modelle und Zeichnungen wurden von den Studierenden des KIT erstellt.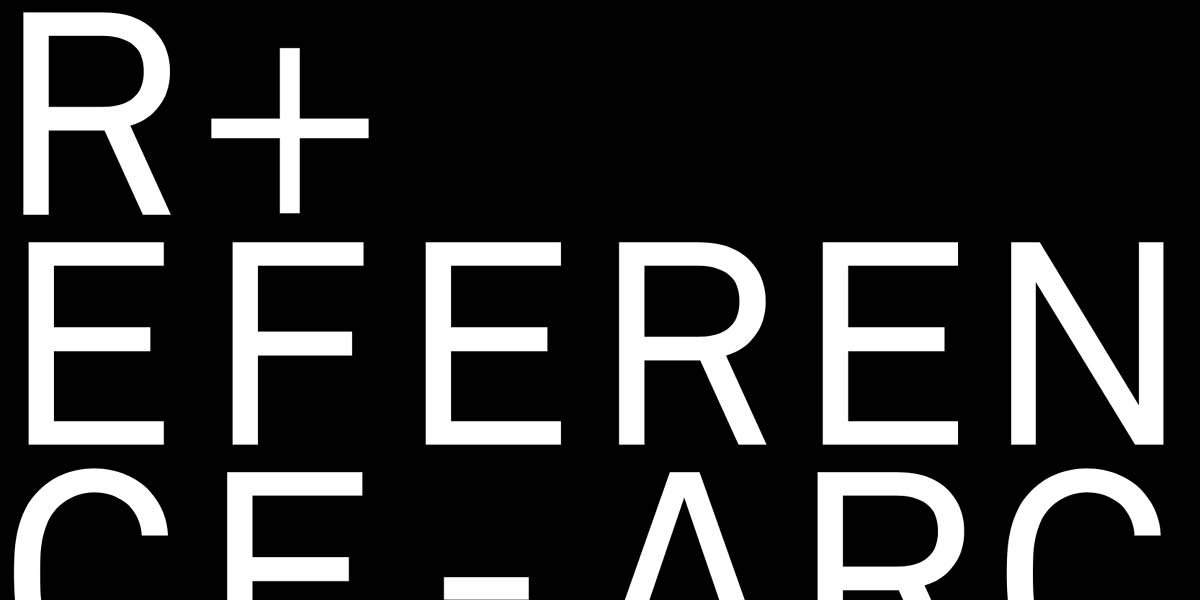 History of Art
Note: Clicking on the images may take you to external websites. Personal data (such as your IP address) may be transferred in the process.
Why study art history?
Students and lecturers of art history at KIT report why art history is an exciting field of research that is needed today more than ever.
Art History at KIT
Welcome video in which students and lecturers of art history at KIT pronounce key terms that they associate with the subject.
Video clip
Origins and Cultural Transformations of "Popular Science
Lecture
(June 15, 2018) Dr. Dr. Jesús Muñoz Morcillo
In this lecture, Muñoz Morcillo proposes a new approach to science communication, focusing on rhetoric and visual and cultural techniques that have contributed to the popularization of knowledge since Greco-Roman antiquity.
How did optical drawing aids become popular 1800-1850?
Lecture
(June 15, 2018) Apl. Prof. Dr. Dr. Erna Fiorentini
In this lecture, Fiorentini looks at 19th-century manuals that addressed optical drawing aids. On the basis of a glaring discrepancy between the opinion on drawing instruments disseminated by the manuals and that of the market, Fiorentini examines different paths of knowledge dissemination and their respective effectiveness.
Exhibition-Virtual: Sequence and Variance
Virtual exhibition project
Dr. Alice Anna Klaassen, Dr. Dr. Jesús Muñoz Morcillo
This project was created as part of a course offered by the Institute of Art History at the Karlsruhe Institute of Technology (KIT), as well as the ZAK | Center for Applied Cultural Studies and Studium Generale in the summer to winter semester 2017/18. The students made film contributions as well as essays on ten selected exhibits from the collections of the Karlsruhe museums. Using the various examples from different eras, the theme of sequence & variance in the visual arts is to be addressed. Visitors can begin a virtual tour of our exhibition via this online platform, which has been specially designed for the project.


Contentful Surrogates? - Virtual Reality for the Conservation of Art Installations
Explanatory video: e-Installation: Virtualization of Media Art (Film)
Dr. Dr. Jesús Muñoz Morcillo
On the virtualization of media art: Although technology-based art has only existed since the early 1960s, the lifespan of many of these works of art is very short compared to more traditional genres such as painting or sculpture. A remedy for this is a new kind of documentation of media art using VR and telepresence technologies: the e-installation.
Johann Christian Reinhart - Landscape with a Bite
Reading
Prof. Dr. Oliver Jehle
From: Kirsten Voigt and Pia Müller-Tamm (eds.), Unter freiem Himmel. Landschaft sehen, lesen, hören, Bielefeld, Berlin 2017, pp. 166-172.


Department Teaching Award 2020: Architecture / Professor Dr. Inge Hinterwaldner
Video clip
Prof. Dr. Inge Hinterwaldner received the Department Teaching Award of the KIT Department of Architecture in April 2020.

"Venice Under the Sky."
Reading
Apl. Prof. Dr. Dr. Erna Fiorentini
From: Under the open sky : seeing, reading, hearing landscape, edited by Kirsten Voigt and Pia Müller-Tamm (Bielefeld: Kerber Art, 2017), 140-147.

Outlines of political art in the 20th century
Lecture
Apl. Prof. Dr. Martin Papenbrock
This lecture cursorily traces the lines of development of political art from the 1920s to the end of the 20th century. The focus is not on the state arts, but on the various forms of artistic resistance against political and social hegemonies of their time. It addresses the questions of the specificity of a political art, its forms of articulation and strategies, its themes and iconography, its relationship to the artistic avant-gardes and to the social movements of its time.
Resurrected Art in the Institute
Video project by students
Roberta Cebataviciute and Özge Kaya
In this video, prospective students are introduced to the place of teaching and learning. Empty rooms of the institute are filmed and enlivened with various works of art.
The Yearbook of the Department

On 374 pages, the yearbook published in October 2021 documents the teaching and research of the professorships and teaching areas and provides insight into the diverse department life.

In addition to the contributions of the professorships and teaching areas and the data section, which documents all important events of the academic year 2020/21 in text and images, the yearbook is again dedicated to discourse. Under the title "Salutogenesis", the contributions in the Discourse section explore the question of how architecture affects a "process of recovery" for people, society, the city, the environment or perhaps even the planet.